Gas Cylinder Testing

We are an IANZ approved testing laboratory, and as such conduct tests on a full range of gas and dive cylinders due for their periodic test.  Our trained staff perform testing on a full range of gas cylinders from automotive, forklift, 45 kg down to the smallest primus cylinder.  We are also testers for dive cylinders (SCUBA)  which require yearly inspection. As well as Self contained breathing aparatus (SCBA) which are 3 year intervals for hoopwrapped / full composite cylinders and 5 years for steel cylinders
Testing of your cylinder is generally completed over one to three days, depending on prior workload.  All cylinders are returned filled with gas for your convenience.
We hold a full range of gas fittings and are able to change valves or regulators, and make up hose length fittings.
Q. How do i know if my bottle needs testing?
A. For LPG bottles they will need testing if it is more than 10 years since their last test date (Pictures 1&2)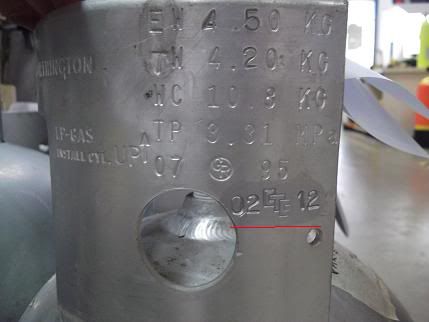 For SCUBA tanks there are two tests.
The first is Hydrostatic, where the cylinder is pumped up to its test pressure to measure how much it expands. If it exceeds the limits for the test it has failed (In this case the cylinder will be tested 2 more times to confirm the result.) This test is done every two years even if the cylinder has had no use. The cylinders are stamped with a month and year to match the test date with the test centres stamp (Picture 3)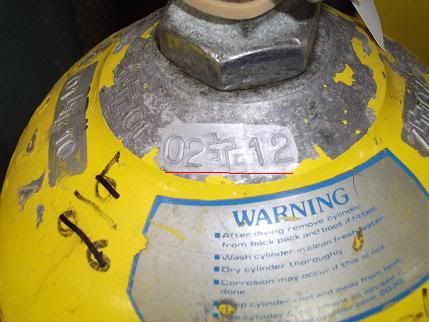 The Second is a Visual inspection. which is when the cylinder is examined under magnification for cracks pitting and corrosion. this is done every year and is due 12 months after the stamped Hydrostatic test date and is marked using a plastic tag (pictures 4&5). It can be left longer but the test dates are based on the Hydrostatic stamped date. So if for example: you have a Visual inspection done in June and your Hydrostatic stamp says it will be due in September it will need to be done in September. This test is also done as part of the Hydrostatic test.